Proven Leaders in Life Sciences Recruitment
Since 1993, The Chase Group has been singularly devoted to clients in the Life Sciences industry. It has been our honor and privilege to partner with some of the most renowned organizations in global pharmaceutical, biotechnology, and academic medicine/research. We have successfully placed all levels of leadership, across key functional areas. Our networks into these functions and markets run deep and wide, and we strive to maintain those professional relationships well beyond the search process. We never lose sight of the fact that our services can profoundly impact an organization's future success and an individual's career and family, and we are committed to honest, open dialogue with clients and candidates. We strive for the best possible result for both, and The Chase Group recruiters excel at this focused collaboration.
Client Partner Profiles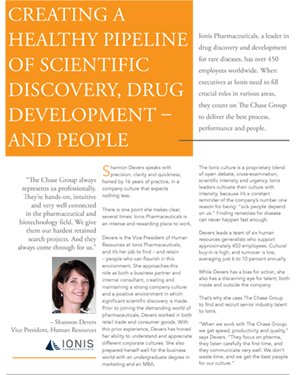 Explore and download profiles of a few of our valued Client Partners throughout the Life Sciences industry and discover the success they have enjoyed with The Chase Group in securing executive leadership teams.